Chube's Page

---
HITRELOAD OFTEN TO ENSURE THE LATEST UPDATES

---
** March 29th - Update- Guess Where **
Here is the guestbook. Please benice.
LeaveNew Message
ReadNew Messages
---

3/7/01 ... 4:45pm ... Draw 13 is now in the books. Newfoundland beats Y/NWT in the battle of the
basement. Speaking of which ... Kursten has now battled his wayinto a tie for 18th ... congrats.
Bitzilini has closed the gap on Simmonski, as have Schmidtsaneggerand Astonov.

There are some key matches coming up tonight. PEI vs. SK, BC vsON, PQ vs AB, and most
importantly NS vs NWT. I gain at least 2 points on all the front runners with every NS win,
so Dacey, if you lose to NWT, I will personally fly to Ottawa and lay a holy beating upon
you. I will beat you with a stick, then break it in half, and beat you with TWO sticks!!!

3/7/01 ... 11PM ... Draw 14 complete. Dacey wins. Lucky shit stole one in the 10th against NWT...
keeps chube within striking distance. If NS can win both games tomorrow I may have a chance of
cracking the top 3. Still kind of odd seeing the Burrows' in the top 10 ... I checked and pigs are not
flying. Well tomorrow is the last day... looks like Vance, Noxon, and Wayne are not going to repeat
their top 3 finish of the Scott. Chall and James have an outsidechance but I wouldn't hold my breath.
And Kursten .... there is still ... uh ... time .... <cough> <cough> <donation> <cough>.
Good luck to all .... link at bottom updated.

3/8/01 ... 12 Noon .... Draw 15 complete. Dacey loses...looks like chube is going to snap. PEI cracks
to Alberta ... right now the site lists PEI as stealing in an extra end but I was watching the webcast and
Alberta didn't even have to through his last rock. I think ...the picture is kind of small.
Anyways ... IT COMING DOWN TO THE WIRE!!! For the first time Pat doesn't have sole possession
of top spot. Bitzy and Schmidt are right on their heels (andknees but that's a different story). Chall and
younger-Burrows are in contention and Chube is checking prices for airfare to Nova Scotia and a big stick.

3/8/01 ... 4:00pm ... Draw 16 is complete. Holy crap batman! There is some movement at the top of the
heap. Chube stays 5 points back and probably will never cheer for Dacey again.
Noxon officially gave up last night ... tried selling his points tothe Burrows' for some "favours" but chube
has ruled it to be past the trade deadline. I'm still tryingto figure out how it could be that James is
still in contention. After the Scott, it looked like Noxin had potential, but it turned out to be non-potential.
Link at bottom updated.

3/9/01 ... 12:09AM ... Draw 17 and round robin complete ... PAT WINS!!! After leading from start to
finish ... with only a bit of contention during the final draws, Pat comes through with a slim one point victory.
When reached for comment, Pat, when asked what he will do with the$120 first prize, said "Without a
doubt I will ... uh .... check with Cindy." Team Astonishingand Team Vern Jr. tied for second place. They
will split $80 ... what will they do with the money??? Both replied unanimously: "Mail-order-Russian-whores!"
Way to go boys!
Bitzillini came in a close 4th ... too bad he was so close in both events, but no cigar. Since his goal of pummelling
the elder Burrs was accomplished I do not feel bad that he was not in the money.
Chall, with his 5th place finish, proves he "knows" men much better than he "knows" women.
The Burrs-bros suprised all by staying in the top 10, but still remain"flaming donations."
Kursten started his charge for the top a bit too late... ending up tied with Ray-punzel. Guess he should have
started the charge a bit earlier... I kept telling him he was running out of time but he wouldn't listen.
Oh ya, for those of you who missed this, here is where Russ's infactuation with Colleen Jones began (picture
courtesy of Kursten).

My final comment for the evening is this: "Dacey you chunk of ball-salt. If you had won a couple more games
I would have been in the money. Don't come back to Saskatchewan unless you have $120 in your pocket
or a team of body guards. I have my stick and it has your nameon it. Some people would say I am bitter
and I would have to agree."

Good night all, and thank-you for participating.... chube.

FINAL Standings: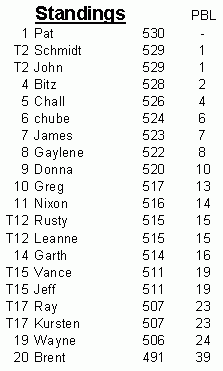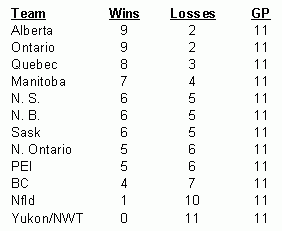 Click herefor the Excel 97 spreadsheet. As before, only update the wins
and losses on the 1st sheet, as all othersare referenced from there.




Well its time for the Nokia Brier.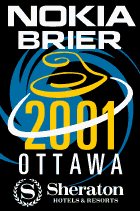 ---
As per my previous comments, the theme ofthis years Brier will be "Russell Bashing". Click
here for thestory of Russell.

CanadianCurling Association's Website.

Click hereto see the results from the Scott Tournament of Hearts. The page has been left
intact ... with all of Russell's chube-bashingcomments left intact ... I will get revenge.

Click here for some sweet,sweet porn.