GyverScot Registered
Scottish Terriers
Annie - Am Can Ch CasinGyver Sweet Temptation CGN
x Rowdy - Am Ch Glenby Rowdy Adventure

Puppies' Pedigree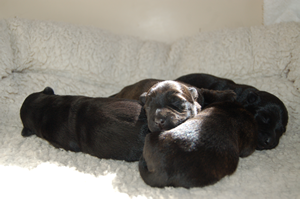 Puppies in these photos are just a few days old. There are two red brindle puppies and two black puppies in the litter. A boy and girl of each.

Do know what the term "a good breeder" means?
all images copyright Karen Prokopetz 2011