The truth about the behind-the-scenes troubles.
There has been more talk about the difficulties on the set of Bad Cops than about the film itself. It's true tempers sometimes heated up and the film almost didn't get made, but most of the stories in the press have been less than accurate.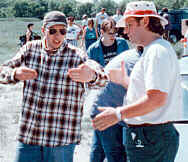 Evans (left) explains request to craft services boy, Andrew Gordon.

In the last week of shooting the production was already far over budget with most of the action sequences left to shoot. The last thing the film needed was for one of the actors to walk off the set for three days. That is what happened when Whittingham had a falling out with one of the key crew members (Brent Kowalchuck, the head of craft services). "Things weren't looking good at that point," says executive producer John Kennedy. "Smoking wasn't good enough for me. I actually started eating my cigarettes. I wasn't reacting well at all." He just left that stupid car of his parked on a crucial part of the exterior set and just walked off through a farmer's field. We had to continue shooting but that damn car was right there in the middle of the shot."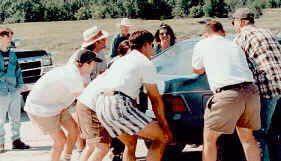 Crew deals with Whittingham's car.


The production unit continued to shoot through the following morning without Whittingham but as Evans points out, "There came a time when there weren't anymore shots we could pick up without him so the crew just stood around at a cost of several thousand dollars an hour. Eventually they got irritable and impatient."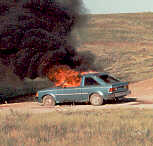 Unable to move Whittingham's car, the crew sets fire to it on day two.

The second day ended and Whittingham had still not been found. "We were ready to shut the thing down," Kennedy says, "but our insurance people wouldn't let us because of our enormous debt. We had to keep looking for him (Whittingham)."

James was spotted by one of the prop buyers in a Regina Burger King. "I don't know exactly what happened," laughs director Evans, "but there's one story that the guy told him (Whittingham) that he still hadn't shot his sex scene yet and he should come back at once. That night we were shooting the night scenes right on schedule."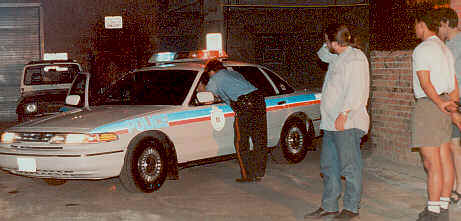 The car-less Whittingham tries taking one of the police vehicles from the set to make a drive-thru run.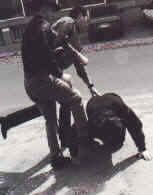 In the end tensions were too much for both James and Kevin as they take out their frustrations on a production assistant.

---