 The Band-Its
The Jazz Band-Its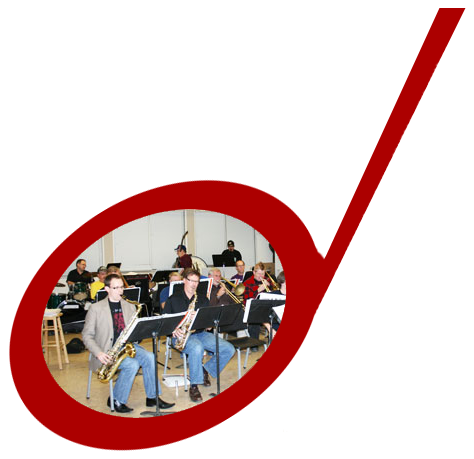 Practice is
now at
wesley united church
on 3913
hillsdale ST.
regina
DIRECTOR: YVONNE REDANT
Yvonne Redant became musical director of The Band-Its and The Jazz Band-Its in 2007, succeeding Joe Hary following his retirement.
A former student of Joe's from Yorkton, where she played with the Yorkton Regional High School band program, Yvonne received musical training from many teachers, before and after high school. Her former teachers and mentors include her parents, Phil and Julia Redant who ran a music and art studio in Yorkton; Gloria Herauf, Cindy Burham, and Glen and Lil Traquair. She also attended Fort San Summer School of the Arts for six years where she was taught mainly by Ashley Alexander and Ross Ulmer.
Yvonne holds a bachelor of music education degree from the University of Regina where she studied mainly under professors Dick Raum, John Griffiths and Ed Lewis. A firm believer in lifelong learning she has since studied with Wayne Toews, David Becker, and Morihiro Okabe, and has taken many conducting workshops. Her principal instruments are trombone, baritone, tuba and guitar, but as a music teacher and director of the band program at Martin Collegiate she can play all the instruments.
A committed advocate of music in the community she has been director of the Regina Mandolin Orchestra for nine years and the Regina Community Orchestra for 10 years. She has performed on guitar with Eddie and the Shone-dells for the past eight years. She has played in and/or conducted the Regina Lions Band, Regina Police Junior Band, Regina Winds, Saskatchewan Express, Ragtime Don and the Ghosttown gang, Poltava Ensemble Orchestra, Jazz Journey (trio), Bob Moyer Big Band, Dr Gerry and the History Band and Peter Dykesman's Praise Band with Joeseph Ziwa.
Her views on music: "Everyone should have a chance to play an instrument and experience music in their lives. Music is in our blood. It connects us to those both living and dead. It is never too late."