Jerry Jessop NEW Beaches
These paintings continue the recreational theme of escaping from the fast lane in city life. The paintings are about meditating and emptying for a healthy mind and body. Bathers "muse" and think nothing. The paint quality is about "light", fragility and pastel color; different from more emotional paintings of the past.
Jerry Jessop Jessop01@accesscomm.ca (306) 729 2542
Family Tube Day and Magenta Beach Day acrylic/canvas 48" x 60" $1450.00 ea.
Striped Towel and Six O'clock (sold) acrylic/canvas 24" x 36" $750.00 ea.
Beach Arrival acrylic/canvas 18" x 24" $425.00
Kayak Boys ac/canvas 36" x 48" SOLD to SGI
Wooden Hulls ac/canvas 24" x 48" $1100.00 SOLD
Beach Procession ac/canvas 42" x 54" SOLD
The Scene ac/canvas 48" x 60" $1400.00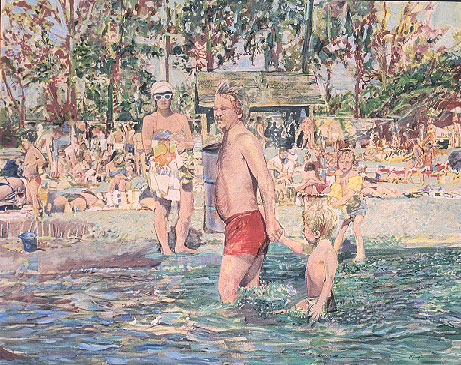 Wind and Waves ac/canvas 48" x 60" $1400.00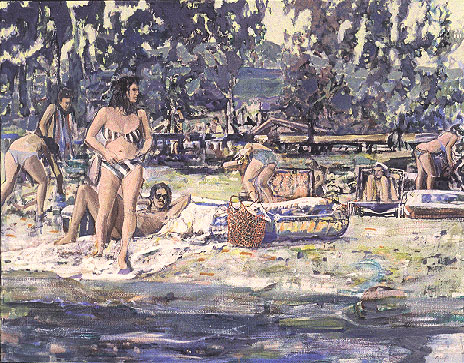 I'm Being Watched ac/canvas 48" x 60" $1400.00
Gyro Heat ac/canvas 48" x 60" $1400.00
Magenta Shade ac/canvas 16" x 20" $500.00
Orange Light ac/ canvas 16" x 20" $500.00
Marina Shore acrylic/canvas 18" x 24" $425,00
Sparkling Beach ac/canvas 30" x 40" $950.00
Texting ac/canvas 24" x 36" $750.00
Gazing ac/canvas 24" x 36" $750.00