Chube's Page
---
HIT RELOAD OFTEN TO ENSURE THE LATEST UPDATES

---

Guestbook from the Roar of the Rings:
---

Thurs. Dec 6th, 11pm ... It's all over folks! And the winner is ... Brent. I laughed at
him when he rated Middaugh with a 4, but I guess he got the last laugh. Aryn and Tim
tie for second, so they split the 2nd and 3rd place prize money and go home with $46
each.
D. Boe, what happened buddy? One more draw and you would have been there with
random. Oh well, there's always the Scott and Brier pool.
Nice showing by Nixon and Cactus, but where's the elder burrs? Oh.
Team Astonishing will hence forth be called Team Not-so-Aston-ishing.

Well, thank-you to all the participants. Hope to see you all again in the
Scott and Brier pools. Hope everyone had fun.
chube.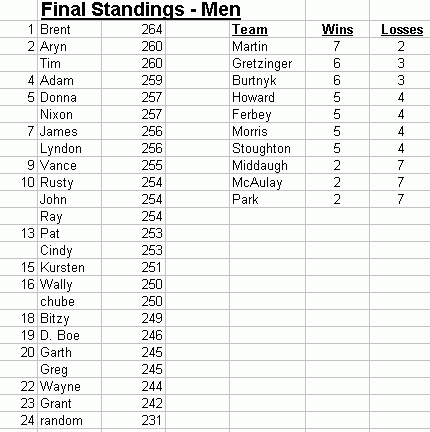 Thursday, Dec. 6th, 5:30pm .... womens round robin is complete... the results are in!
Pat wins, Pat wins! Pat holds on to win, with a narrow 2 point victory over yours truly.
The margin of victory was due to Pat picking Law 10/ Middaugh 9 vs. me having Law 9,
Middaugh 10. Oh well, can't win them all.... but Pat is close having won 2 out of the 3
pools held so far. Grant holds on for the $23 third prize. Cindy, Garth and Lyndon were
just one point out of the money.
Bitz finished tied with Greg ... something I'm sure young-Eddy isn't too proud of.
D. Boe was last seen unleasing some whoop-ass on Fowlie.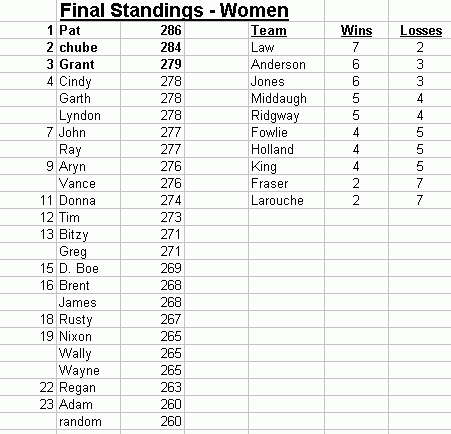 Lets have a caption contest for this picture: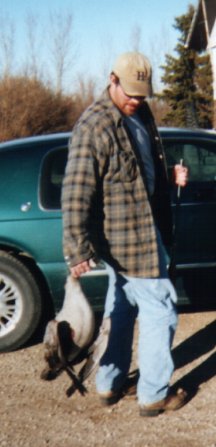 "Hey Ray, watch where you put that goose!"
or, "Ray takes the idea of 'goosing' himself a little too far"
or, Ray invents the "Brown-beak"
Post your ideas on the MessageBoard.

Thurs, Dec 6th, 12:30 pm ... Mens Draw 8 complete. Gretz gets two in the 10th
to beat Howard. Wow. Aryn sits alone at the top. It's a tight race, anyone's
ballgame. D. Boe ... falling fast and hard. I think I'll actually finish ahead of
Mr. Boe. Elder Burrows is still occupying his usual position.


Thurs, Dec. 6th, 12:30 am ... Womens Draw 8 is complete. Oh, how the mighty
has fallen! Mr. D. Boe has fallen off the pace, with only one draw left to go.
Patrick still sits alone on top, while the battle for 2nd and 3rd is fierce. I'd say
anyone down to ummm 11th spot still has a chance for some cash.

Weds, Dec 5th, 5pm ... Mens draw 7 is complete. Teehee, Middaugh is in the tank. I have
begun my charge through the pack ... as I am now in a solid 21st spot all alone. There is a
battle for the lead ... it is going to be a tight finish. BUT WAIT, WHERE IS D. BOE???
Looks like the Hudson Bay Kid's dream of a double win is all but completely lost. Maybe
next time. In the mean time, and in between time, this has been another episode of
stampede curling.


Weds, Dec 5th, 2pm ... Ladies draw 7 complete. I am getting angry. Jones must win for
me to gain points. At least Fowlie lost though. It wouldn't hurt my feelings if King actually
won another game or two either. What is the Elder Burrows doing so close to the top of
the pack... maybe I should recheck the spreadsheet.

Weds, Dec 5th, 12:21am ... Men's draw 6 is complete. Just got back from floor hockey. Rusty
was on the receiving end of a nice chubick slash. heeeheee. Tonights televised battle was between
Gretz and Morris. I don't know about you but I thought they both played some very stupid shots.





There are 23 people in each pool. So the prize money will be like this:
1st place: $138 (each event)
2nd place: $69 "
3rd place: $23 "
Remember the competition is separate for the mens and ladies events.
I have also made up a RANDOM team. I threw all the names in a hat and picked them out one at a time.
This is only for fun and is not an actual entry ... I do think that mr. random will have no trouble knocking
off the Brothers-Burrows.

Thank-you to all the new-comers for entering ... and good luck to all.
chube


Here is the Excel 97 spreadsheets used to keep track of the standings. MenWomen Only enter the number of wins
on the 1st page ... the second and third pages will be updated automatically.


---
Rules:
1. Rank men's and womens teams separately.
2a. Give the team you feel will have the most wins a 10 and the least wins a 1.
2b. Your score is determined by multiplying the ranking by the number of wins and adding them up.
3. Entry fee is $10 each event .... that's $20 total.
4. Payout for each will be: 1st - 60%, 2nd - 30%, 3rd 10% (again for each event).
5. Results are based on round robin only... tiebreakers and playoffs are not included.
6. Entry fee must be in chubes hands before the start of the 1st draw.
7. You may email, fax, or phone me your picks.
8. I will pick my rankings and email them to someone else before looking at any of your picks.
9. I will post everyones rankings on this page after they are all received.
10. Keep this page bookmarked for updates and results.



Click here to see the results of the last pool.

Canadian Curling Association's Website.


Click here to see why Regan lost his job as one of Santa's reindeer.

Message Board Hosted at beseen.com.