Chube's Page
---
HITRELOAD OFTEN TO ENSURE THE LATEST UPDATES

---
Newer,Faster Message Board
Here is the old guestbook. Pleasebe nice.
SignGuestbook
ReadGuestbook

---
Thurs. Feb 28th ... IT'SALL OVER FOLKS!!! Chube wins, chube wins! As long as
all the favorites won inthe last draw I was ok. If Sask had beat Manitoba, Johnny
would have tied me though. If Quebec beat Canada Aryn would've won.
Rusty finished a solid FIFTYpoints back ... one behind Brent. Well done.
Pat, a two-time winner,finished tied with the elder Burrs. For shame.
Mike Thomas and Vance finishedjust outside the money.
Special thanks to our first-timers for participating.
Thanks to all and hope tosee everyone in the Brier pool.
chube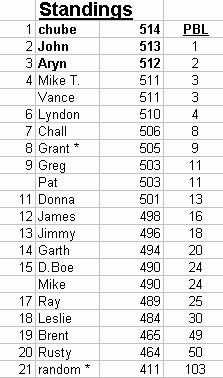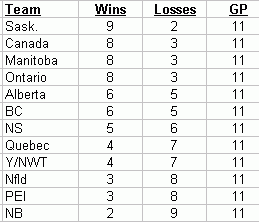 *denotes "fun" entry.
Thursday, Feb. 28th, 5PM... Draw 16 is complete ... only 1 more draw to go! I am
still holding on to a slim1 point lead thanks to Doyle beating C. Jones. Still
anyone's ball game though... well not quite .... Russell was out after the 3rd
draw. Here are tonight's matchups:
CAN vs PQ
BC vs AB
MB vs SK
PEI vs ON
Weds Feb 27th, Draw 14 complete... go Anderson go ... heeee heeeee ... it's
still tight at the top...still could go to anybody.
Weds, Feb 27th, draw 13 is complete and the RRSP deadline is looming. There's a battle-royale
shaping up at the top ...and the bottom, as Rusty is set to overtake Brent for that illustrious19th
position.
Tues Feb. 26th ... draw 11is complete ... things are close at the top...
Tuesday, Feb. 26th ... I don't know what the f*&% I was thinking last night when I typed "Feb8th" ... yeesh,
not even close. Well,Grant's late entry sits atop the standings, but it is Vance with the temporary 5 point
lead... his top teams aren't playing tonight so I expect the gap to close a bit. Thomas is holding his own in
3rd (or 2nd or whatever). Rusty is fading fast.

Monday Feb 8th, Draw 8 complete...

Mon Feb 25th, 5pm ... Draw7 complete ... Grant won't be in the pool this time... Without 100%
agreement to let him in. I couldn't bend the rules and allow a late entry. He's cool with that. It will
be interesting to see where he places.

Feb 25th, I have a late entry. The email with the picks was in my work inbox at 9:39pm Saturday night.
Here is what it said:
Sorry Cory, I have been on holidays on Vancouver Islandfor the last week
and a half. Honestly, I have not even turned onthe TV or looked at any
scores for the Scott yet. I still would like toget in on the pool. If you
want I will mail you a cheque, just let me know the address. Here are my
picks.
GC
I have no problems accepting the entry, but please letme know by email what you think. If some people
strongly object to the late entry, Grant will just bein the pool for fun this time. I will keep all
comments private. I have added Grant to the lists below ... he is sitting in a tie for 4th after last nights draw.
Feb 24th, late ... draw 5 is complete. Too tired to comment ... must sleep ... I like my chances
if Doyle keeps winning.

Feb 23rd, 1PM ... 1st draw starts in 30 minutes. Here are the entries:

19 entries. That means 1st place is $114, 2nd is$57, and 3rd is $19. The numbers are a bit
down from before. I think that has to do with me not notifying people in time. I haven't heard
from the mighty nixon at all.
Here is the Excel 97 spreadsheet you can use to keep track of the standings if you wish. Again,
only update the wins and losses on the 1st page and theothers will be updated automatically.
Good luck everyone, chube.
Here are the participants:
chube - Cory Hubick
D. Boe - Derek Boe aka the Hudson Bay Kid
Lyndon Holm
Mike McIntyre
Greg Burrows - the elder Burrows.
Pat Simmons
Rusty - Russell Siebert, the younger siebs
Vance Hachkewich
Leslie Adam
James Burrows - young Cactus
John Aston - Team Aston-ishing
Donna Siebert - mama siebs
Garth Neher
Mike Thomas
Brent Stroh
Jimmy - Warren Action Jackson
Chall - Cory Hall
Aryn Schmidt
Ray Siebert - the elder Siebert

Feb 22nd ... 17 entries in so far. I'm still waitingfor a few stragglers to get their picks in. The absolute
cut-off is Saturday the 23rd at noon. The first draw starts at 1:30 so I should be able to have all the picks
posted by then (depending on how many double-doubles I consume tonight).
Feb 20th ... oops, I forgot PEI in the teams list.
Feb, 19th... Well the Scott Tournament of Hearts starts in a few days(Feb 23rd to be exact). Get your picks in ASAP please.
Here are the teams:
Teams:
BC - Kristy Lewis
Alta - Cathy King
Sask - Sherry Anderson
Man - Jennifer Jones
Ont - Sherry Middaugh
Que - Nathalie Gagnon
NB - Kathy Floyd
NS - Meredith Doyle
Nfld - Cathy Cunningham
PEI - Kathy O'Rourke
Yukon/NWT - Monique Gagnier
Canada - Colleen Jones
---
Rules:
1. Rank men's and womens teams separately.
2a. Give the team you feel will have the most wins a 12 and theleast wins a 1.
2b. Your score is determined by multiplying the ranking by thenumber of wins and adding them up.
3. Entry fee is $10 for each event.
4. Payout for each will be: 1st - 60%, 2nd - 30%, 3rd 10%.
5. Results are based on round robin only... tiebreakers and playoffsare not included.
6. Entry fee must be in chubes hands before the start of the1st draw.
7. You may email, fax, or phone me your picks.
8. I will pick my rankings and email them to someone else beforelooking at any of your picks.
9. I will post everyones rankings on this page after they areall received.
10. Keep this page bookmarked for updates and results.
11. Ties: If there is a tie for 1st or 2nd the prize money willbe split equally. If there is a tie
for 3rd place only, the tie will be broken to determine who will get3rd place alone. To break
the tie the head-to-head results of the top ranked teams for each personin the tie will be looked
at. For example, if person A ranked Sask as 12 and person B rankedManitoba as 12, then
if Sask beat Man in the round robin person A would get 3rd place. If they both had the same
team ranked as 12, then you would look at who they ranked 11, then10, etc.
If more than 2 people are tied for third, then the same scheme is usedbut you may have to
eliminate people one by one. For example, if person A and B pickedSask as 12, and person
C picked Man as 12, then if Sask beat Man in the round robin personC is eliminated and we
look at who A and B rated as 11. If Manitoba beat Sask in theround robin then person C would
get 3rd place.
I hope that made sense to you, it does to me. If you want moreexplanation please let me know.



PREVIOUS POOL RESULTS:
Roarof the Rings
Brier2001
Scott2001