Products
To maintain low prices, my supplier requires a minimum purchase of 12 jackets (combined between bomber and 3/4 length styles). I will combine orders from multiple individuals and SAR chapters to get to this minimum quantity and place the orders periodically.
Taxes ARE included in the prices shown, but shipping charges are not included. If pickup or trusted personal delivery cannot be arranged (we know a lot of volunteers who travel!), then shipping will be via lowest cost carrier (usually bus) and the buyer is responsible for actual charges.
---
SAR Bomber Jacket
A revved up classic aviator style Bomber Jacket to meet the diverse weather, visibility and comfort needs of safety workers on the ground. Originally designed to keep pilots warm at high, freezing altitudes, our three layer, convertible Bomber Jacket comes with a multitude of options and can be worn five different ways. "SAR" is printed on the back.
1) The outer jacket is made of fluorescent orange PVC coated polyester plus 3M Scotchlite reflective tape and has received independent ANSI Class 3 certification. Its many features include a snap on, hideaway hood, flip up collar for wind blocking, zipper and snap front, a radio pocket, two outside hand pockets, and, to hide dirt, dark cuffs, collar and waistband. Elasticized cuffs and waistband keep cold air out and warm body heat in. PVC coated polyester meets ASTM F 1671 against bloodborne pathogen penetration. The Jackets lining is nylon and includes a double inside pocket, one with a zipper.
2) When it is not quite so cold out, zip out the inner polar fleece jacket and wear the Bomber Jacket as a two layer jacket, still ANSI Class 3.
3) Zip off Bomber Jackets orange sleeves and wear as a Class 2 Vest. When wearing the jacket without orange sleeves, as a Class 2 vest, the inner fleece jacket with fleece sleeves can remain in place.
4) Remove the inner polar fleece jacket lining with sleeves, leaving a Class 2 sleeveless orange outer vest with reflective striping.
5) Lastly, the blue, non-compliant, inner polar fleece jacket can be worn alone on cool days, when working away from traffic.
The photo below shows a comparable jacket in yellow. The real jacket is the same fluorescent orange as the full size style jacket, and also has "SAR" printed on the back (shown below).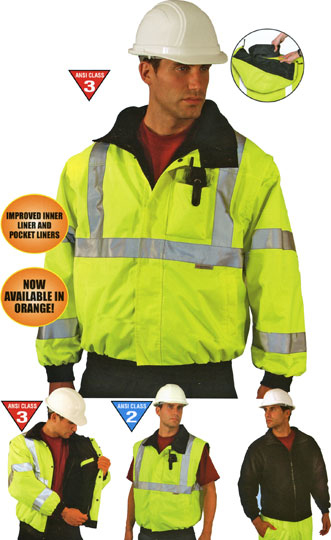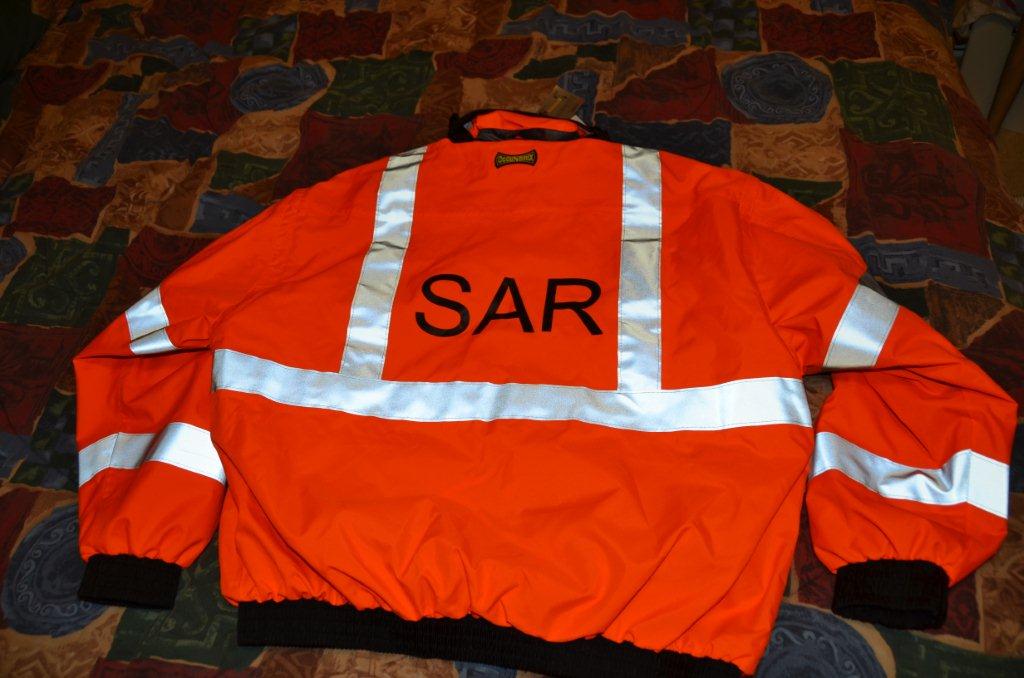 ---
SAR 3/4 Length Jacket
The 5 in 1 Coat is the one garment that takes you through three seasons and any situation, with more built-in options than any other traffic safety garment.
1). 5-Layer Coat/Class 3: When worn complete with the Bodywarmer, there are five layers of weather blocking fabrics. Outer coat is independently certified as Class 3, constructed of 100% weatherproof, daylight visible fluorescent PVC coated polyester with 360 degree 3M Scotchlite reflective tape to ensure conspicuity at night, dawn and dusk.
Outer fabric meets ASTM F1671 for protection against bloodborne pathogen penetration. The outer coat also includes a hood that rolls into collar, snaps, button storm flap closure, weatherproof zipper and 2-deep patched pockets on the outside shell.
2) 2-Layer Coat / Class 3: Zip out the 3-layer Bodywarmer leaving a 2-layer PVC coated polyester lightweight, Class 3 coat.
3) 3-Layer Bodywarmer with Quilted Sleeves/Class 2. The extra long Bobywarmer worn alone is a high caliber ANSI Class 2 traffic safety and weather garment. The Bodywarmer's outer fabric is 100% weatherproof, daylight visible fluorescent PVC coated polyester with 3M Scotchlite reflective tape, is independently certified to meet Class 2 requirements and has two outer pockets.
4) Bodwarmer with Navy Blue Fabric Sleeves Zipped Off/Class 2. Same as 3) but with blue fabric sleeves zipped off. Ideal for slightly warmer weather.
5) Bodwarmer Reverse Side. Reverse the Bodywarmer to conceal conspicuity and enjoy a dark blue, extra long Bodywarmer, without quilted, padded sleeves. The navy blue side is quilted and made of 65% polyester and 35% cotton.
The Bodywarmer is insulated with a wind and weather blocking polyester fill that comfortably retains natural body heat. Of course, when worn reversed, the layer towards the body is the high visibility PVC coated fabric. The Bodywarmer includes two outer side pockets for hands plus two inside pockets.
The photo below shows a comparable jacket in yellow. The real jacket is the same fluorescent orange as the bomber style jacket, and also has "SAR" printed on the back (shown below).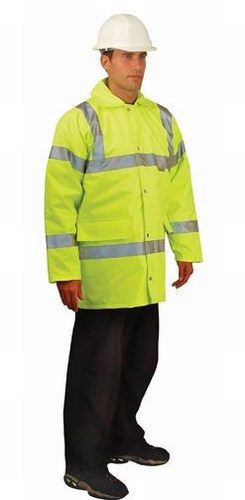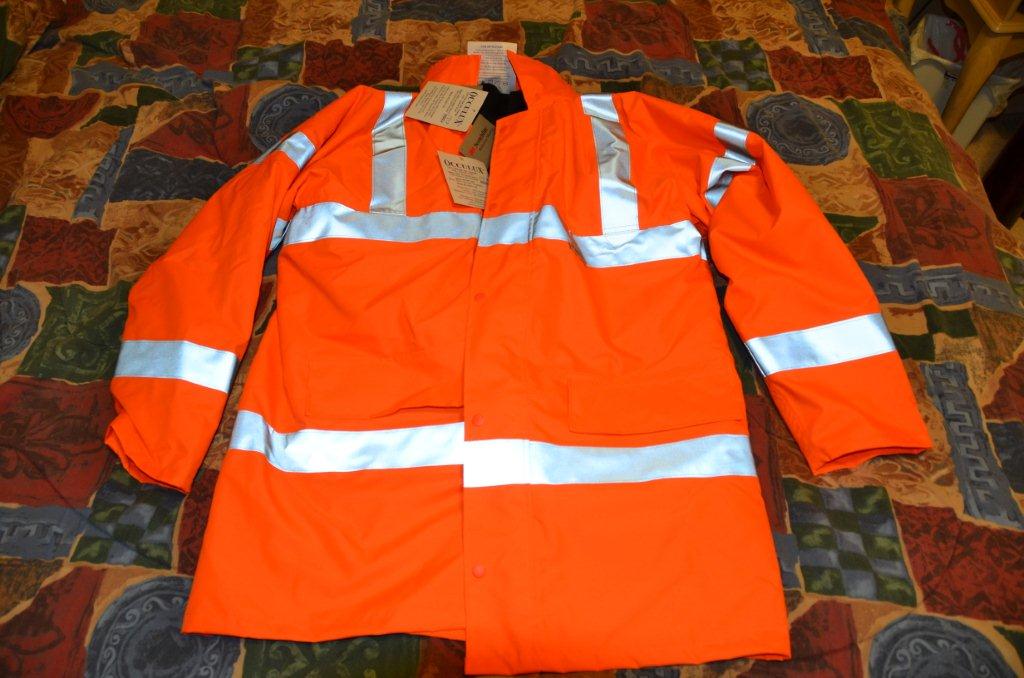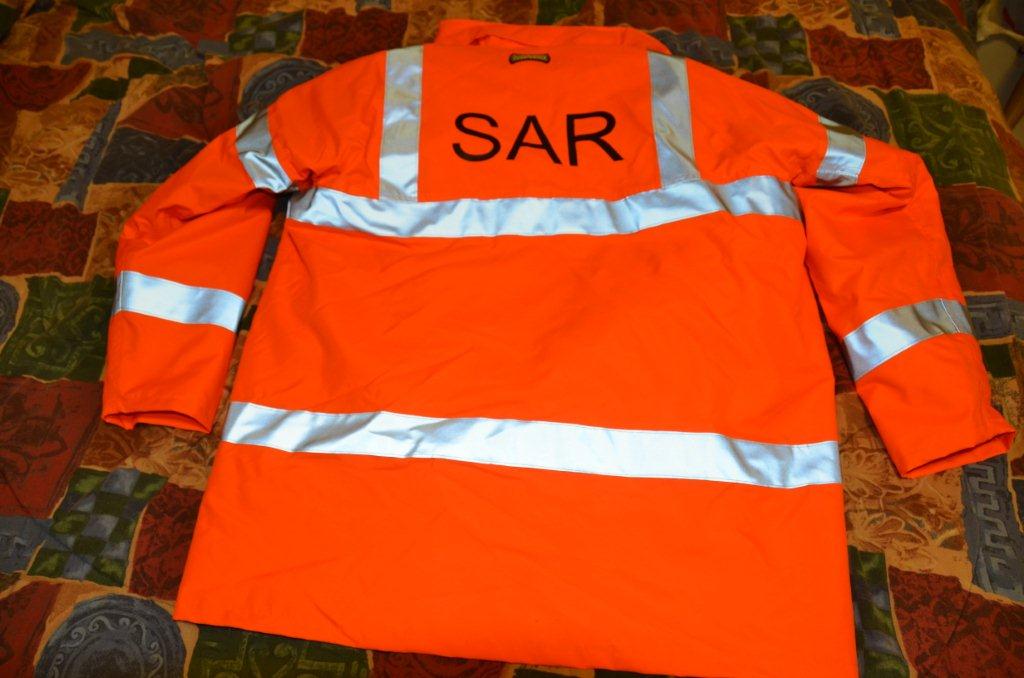 SARSAV Photo ID Card
Click on the SARSAV ID Program link for full details. Order and pay for the photo ID cards here. Just remember, you will need to provide the photos and member information in a separate email to me.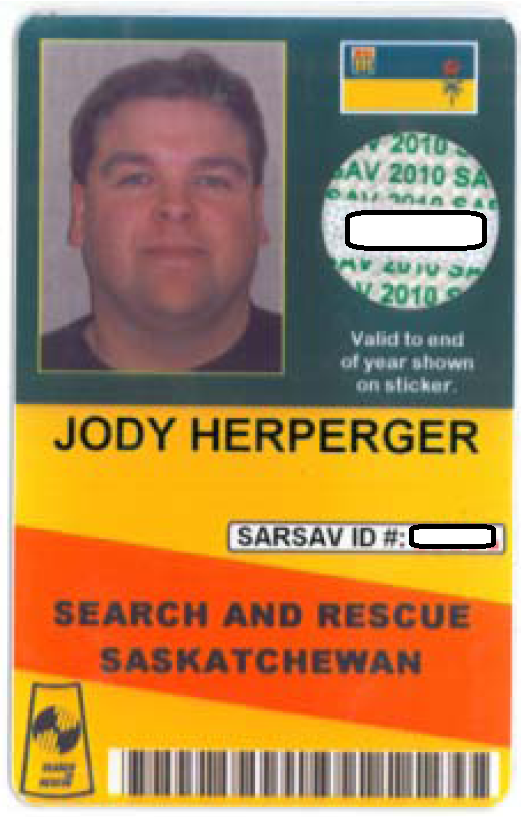 $3 each.
---
ID Card Holder and Lanyard Combo Pack
This combo pack (not available separately) is an optional accessory for the photo ID card, and it is highly recommended that one set be purchased for each volunteer. The badge pouch is large enough to hold several credentials in addition to the SARSAV ID card (such as ARES identification, boat operators card, radio license, etc). Items may not be exactly as pictured.
The lanyard is bright yellow with SARSAV printed in orange. The lanyard is very elastic - stretching to almost 150% of original length.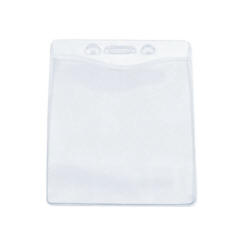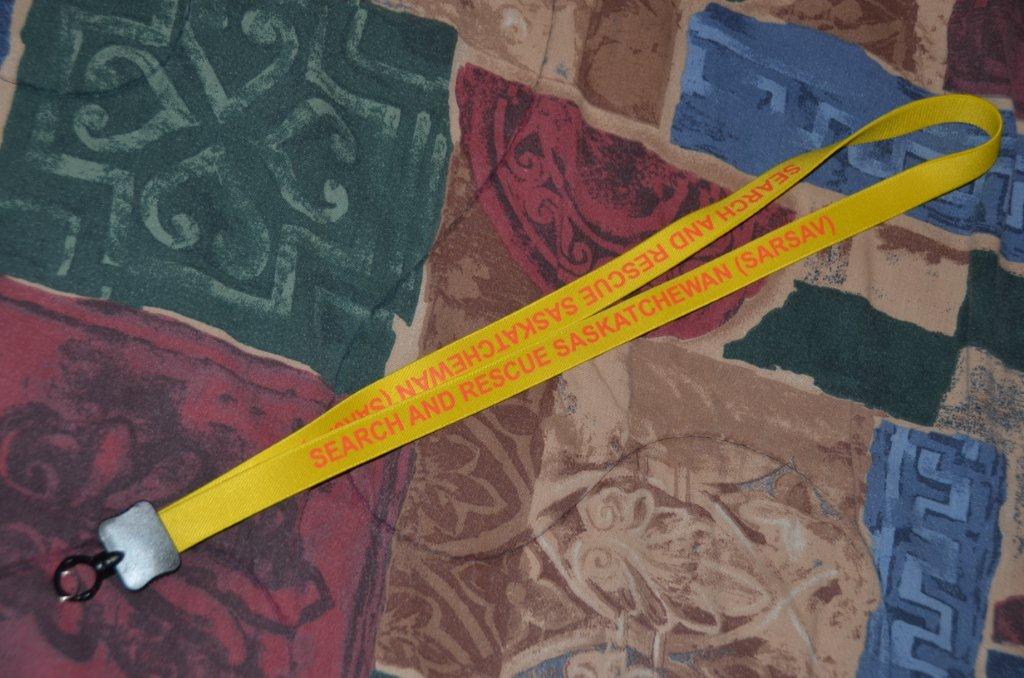 $2 for the combo (not available separately).
---
ID Card Yearly Renewal Stickers
These are the tamper-resistant self-adhesive stickers required to maintain authorization on the SARSAV photo-ID card. These must be updated every year. Orders made after October 1st will automatically be issued with the next year's stickers. Orders prior to that date will be shipped with the current year's stickers.
The fee includes the first 24 stickers or portion thereof. Please add one "Renewal Sticker" quantity for each 24 members or portion thereof.
When the stickers are ordered, I will assign the renewal sticker number to each member registered for your SARSAV chapter. You will receive a copy of this list for you records, and to ensure the proper sticker is given to each member. A copy of this list is also made available to law enforcement and CPSP/EMO to ensure photo-ID authenticity can be validated in the field.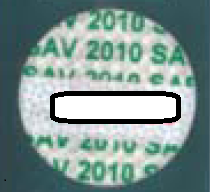 $2 per 24 or part thereof.