Chube's Page
---
HIT RELOAD OFTEN TO ENSURE THE LATEST UPDATES

---
Newer, Faster Message Board
Here is the old guestbook. Please be nice.
Sign Guestbook
Read Guestbook
---

Thursday March 14th, 11PM ... CONGRATULATIONS to team Bitz. Well done.
Also congrats to Tim Herrod who gets the grand prize of $144 to himself. The younger
Burrs gets the $72 second prize and Mike McIntyre will get the $24 third place prize.
Please see below for how the tie for 3rd place was broken.

Well, I am skippin town for a few days ... going to Calgary tomorrow morning. Brier
patch, here I come. I'm sure DBoe will be right where Johnny last saw him. I'll be
able to report the result to him there. So, if I have any money left when I get back
the winnings will go out next week ;) .

Once again, thank-you to all for entering and hope to see everyone next time,
chube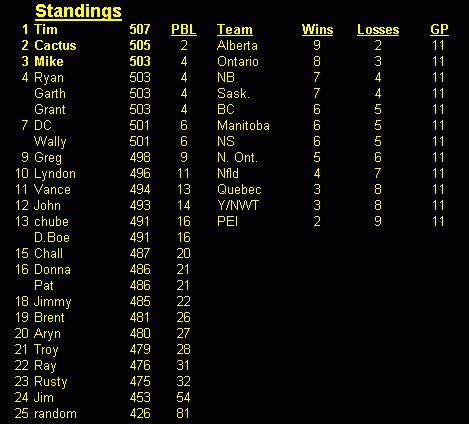 As per the rules below here is how 3rd was determined:
1. First I looked at each persons 1st place pick .. Garth & Ryan - AB, Grant -ON, Mike - NB.
AB def ON, ON def NB, and NB def AB leaving each team with a 1 - 1 record.
2. Next I looked at each persons 2nd place pick .. Garth - BC, Grant & Mike - AB, Ryan - NB.
AB def BC, BC def and NB def AB, leaving each team with a 1 - 1 record.
3. SO, we look at the 3rd place picks: Garth - NB, Grant - BC, Mike & Ryan - ON.
BC def NB, ON def NB, and ON def BC, leaving ON with a 2 - 0 record thus
eliminating Grant and Garth.
4. Finally, for Mike and Ryan we go back to their 1st place picks: Mike - NB, Ryan - AB
and lo and behold NB defeated AB ... so Mike gets the $24 third prize!!!
--------------------------------------------------------------------------------------------------
Thursday, March 14, ONE more draw to go. Wow! What a logjam on the ice
and in the pool. Team Bitz is in a 4 way tie for 3rd at 6-4. All 4 teams are in
action in separate games. Potentially 5 teams could end up at 6-5 or 4 teams
at 7-4 or anything in between. Currently a 3-way tie for 1st in the pool. Well,
good luck to the Bitz team ... hopefully we see them in the playoffs.
Weds. March 13th, 11:33pm ... draw 14 complete. Way to go Bitzy ... back in the
playoff hunt... good luck to the boys tomorrow.
Tuesday, March 12, Draw 11 complete. Younger Burrs still holds on to a slim lead.
There's a three way tie for 3rd at the moment ... maybe the tiebreaker scheme will have
to be used.
Tuesday, March 12th, 5:40pm, Draw 10 is complete. Cactus just took over
the lead. Tight race at the top. I always seem to be 13 points back, no
matter who is in the lead. I see Rusty is settling into his usual position
just ahead of Random.
Monday night ... draw 8 is complete... I think N. Ont is beginning their
freefall to the middle/back of the pack. Phillips played pretty fucking
good but his calls in the 10th end were too stupid for words.
As far as the pool goes, it's still early folks but ... Cactus finds himself
in unfamiliar territory near the top of the pack!! Mr. Neher from Southey
sits alone atop followed by R. Haight. Schmidty, you better be drinking
the real cheap Mexican piss since you won't be making any money here.
March 11, 5:30pm, Draw 7 is complete... hmmm N. Ont still undefeated.
March 10th, Draw 5 complete. Northern Ont. sits alone at the top. I predict that this
won't last long.
March 9th, noon local time. The first draw starts in an hour or two. All entries are
in I think. Here are the picks:

And here is the Excel 97 spreadsheet.
Prize money: 1st - $144, 2nd - $72, 3rd - $24.
Good luck to team Bitz. Thanks to everyone for entering and good luck,
Here's a list of who's who:
chube - Cory Hubick
D. Boe - Derek Boe aka the Hudson Bay Kid
Cactus - James Burrows
DC - Jeff Wall - ask DBoe what DC stands for.
Grant Cooper
Lyndon Holm
Rusty - Russell Siebert, the younger siebs
Donna Siebert - mama siebs
Mike McIntyre
Ray Siebert - the elder Siebert
Greg Burrows - the elder Burrows.
Jimmy - Warren Action Jackson
Tim Herrod
John Aston - Team Aston-ishing
Aryn Schmidt - our Mexico connection
Garth Neher
Ryan Haight
Brent Stroh - "West to East, Bottom to Top"
Jim Tanton
Vance Hachkewich
Pat Simmons
Chall - Cory Hall
Wally - Wallace Hollingshead
Troy Robinson

Click here for the results of the Scott.
BRIER 2002 POOL
March 4, 02 ... less than a week until the Brier starts. Please get your picks in ASAP.
The rules are the same as for the Scott and are found below.
The teams are:
BC - Pat Ryan
Alberta - Randy Ferby
Sask. - Scott E. Bitz
Man. - Mark Lukowich
N. Ont. - Tim Phillips
Ont. - John Morris
Quebec - Francois Roberge
NB - Russ Howard
NS - Shawn Adams
Nfld - Mark Noseworthy
PEI - John Likely
Y/NWT - Jon Solberg

---

Rules:
1. Rank men's and womens teams separately.
2a. Give the team you feel will have the most wins a 12 and the least wins a 1.
2b. Your score is determined by multiplying the ranking by the number of wins and adding them up.
3. Entry fee is $10 for each event.
4. Payout for each will be: 1st - 60%, 2nd - 30%, 3rd 10%.
5. Results are based on round robin only... tiebreakers and playoffs are not included.
6. Entry fee must be in chubes hands before the start of the 1st draw.
7. You may email, fax, or phone me your picks.
8. I will pick my rankings and email them to someone else before looking at any of your picks.
9. I will post everyones rankings on this page after they are all received.
10. Keep this page bookmarked for updates and results.
11. Ties: If there is a tie for 1st or 2nd the prize money will be split equally. If there is a tie
for 3rd place only, the tie will be broken to determine who will get 3rd place alone. To break
the tie the head-to-head results of the top ranked teams for each person in the tie will be looked
at. For example, if person A ranked Sask as 12 and person B ranked Manitoba as 12, then
if Sask beat Man in the round robin person A would get 3rd place. If they both had the same
team ranked as 12, then you would look at who they ranked 11, then 10, etc.
If more than 2 people are tied for third, then the same scheme is used but you may have to
eliminate people one by one. For example, if person A and B picked Sask as 12, and person
C picked Man as 12, then if Sask beat Man in the round robin person C is eliminated and we
look at who A and B rated as 11. If Manitoba beat Sask in the round robin then person C would
get 3rd place.
I hope that made sense to you, it does to me. If you want more explanation please let me know.
12. No entry will be accepted after the start of the first draw.


PREVIOUS POOL RESULTS:
Scott 2002
Roar of the Rings
Brier 2001
Scott 2001