Chube's Page
---
HIT RELOAD OFTEN TO ENSURE THE LATEST UPDATES

---
Message Board
---
Click here for the Scott 2003 Pool Results
Brier 2003 POOL
AND THE RESULTS ARE IN!!! We have a tie folks! Schmidty and Chopper are tied with
a cool 518 pts each. So they will each will go home with $162! Third place and $36 goes to
Mr. Gerry Adam. Well done. And the inaugural BBB Award goes to Gina. Don't spend the
$10 all at once Gina.
I am angry. Angry at Guy. That bitch cost me some money. He could've easily won an
extra game or two. Dacey redeemed himself for costing me the '01 pool. Too bad Harcourt
started so slow. It would've been nice to see the green and yellow in the playoffs again
this year.
Thank-you to all for participating! It's been fun. I hope everyone enjoyed it too. I'm open
to any suggestions you may have for improvement. Thanks to Greg and James for being
good sports! I really don't mean to single them out, but it was just too easy this time.
See ya next year,
chube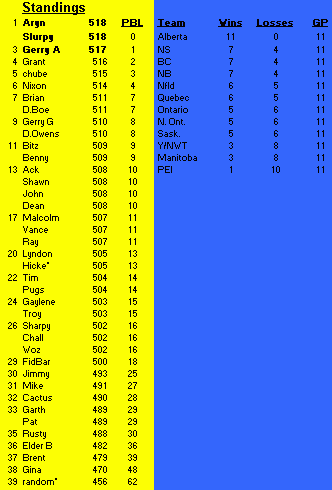 Thurs. March 6th, 5pm, Draw 16 complete ... one more to go! ... and Chopper takes
over the lead!!! As Noxin predicted, anyone who bets on the Newfies won't find
themselves at the top of the pool in the end! Nice try though! :) Lots can happen
tonight but I really like Chopper's chances, especially if Dacey wins.


Thursday March 6th... Draw 15 complete... it looks to me that 13 people still have
a shot at the money! I guess there are a few more people at the bottom of the pack
who have a shot at some money too.

Marchh 6th, 12:10am, Draw 14 ... Well let me see ... it'll be an interesting thursday...
I like my chances ... Guy Smiley plays NWT and Bubbs. If Guy doesn't win two games
tomorrow I will snap! Dacey could do me a favour by winning a pair as well. I figure that
mofo owes me from the '01 brier.
I figure anyone within 10pts of the lead still has a chance. Maybe even further back.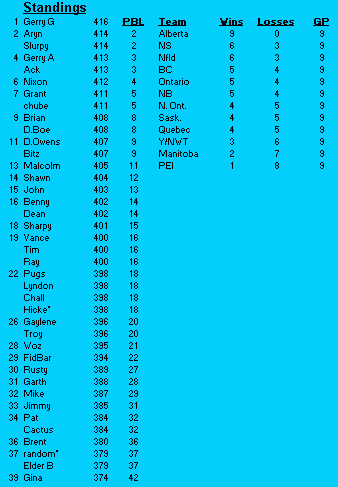 March 5, 5pm, Draw 13 sees Random continue his fall through the pack, only
remaining ahead of Gina and, of course, anyone with a last name rhyming with
"Durrows".
"See, drinking usually gives me lucidity and allows me to finally articulate what bugs me about stuff.
For example, it wasn't until late one Saturday night that I was able to make other people understand
why I fear fire hydrants. Because they keep moving around, and they spy on us. See, now it probably
sounds crazy, but that night I could explain my belief in ways that others understood. We went out as
a group and just kicked the shit out of nearest one until our feet were bleeding.
After a few beers over the limit, I'm still mentally sharp. Maybe I am too sharp, because when I speak I
use more farting noises, hand gestures, and even a little dancing, but nobody understands. While I'm still
doing Nobel-caliber thinking, something gets lost in the translation and I end up talking over everyone's
heads. They start to tease me about the time I pissed my pants because I couldn't find my zipper. It really
isn't that funny once I explain that I couldn't find my zipper because I was wearing button-fly jeans, so no
wonder I couldn't find the zipper. They should put a little warning on my pants.
Well, when the Harelip and Worm start making fun of me, I get real quiet. I sit with a cold beer, occasionally
confirm how the fly of my jeans work and let the gears of my mind keep spinning at 100 miles per hour with
all these incredible ideas. I keep them to myself, though. Why the fuck should I waste pearls on swines?
They all think I'm pouting, but no, I'm just being thoughtful."

Weds, March 5th. Draw 12. Why? Why would I put my money on a frog?
March 5th ... Standing after last nights draw (Draw 11)...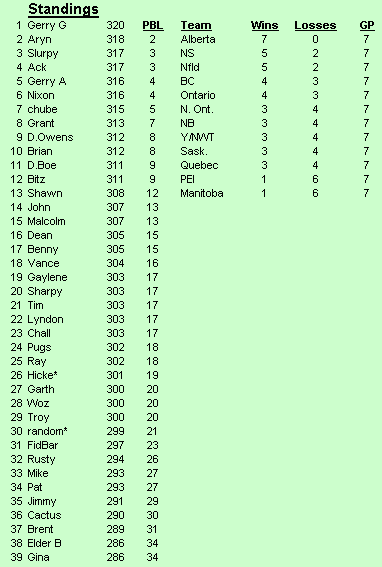 ** 5pm update ... Mr. Aston pointed out to me that I somehow made a mistake on the
team standings, thus affecting the overall standings. Should be right now... chube
March 4th, 4:30pm, draw 10 complete... still a close one folks. Well, Dacey is holding
up his end of the bargain for me. My "curler-beatin-stick" now has Guy Froggings written
all over it. What the hell was I thinking picking him to finish second? It doesn't matter
if Howard loses since most people picked him fairly high. Norhtern Ontario is kind of
f-ing me over with their 4 wins! I predict some big movement though. Northern Ont. has
some tough games. Guy will beat them tonight. As well, Bubbs will get his second victory
against N. Ont tomorrow night.

March 4th, noon, draw 9 complete. Still a tight race at the top.

March 3rd, 11pm, draw 8 ... I forgot to sort the team standings but you get the drift.
Random is kicking some ace. Still anyones ball game though.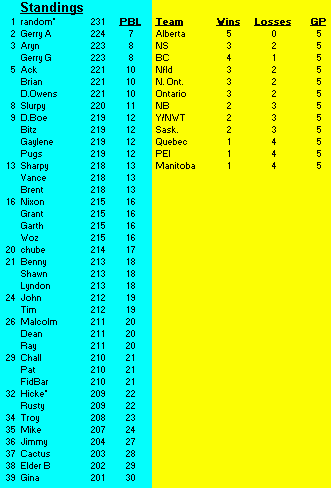 March 3rd, 4:45pm, draw 7 is done... It appears that James and Greg are battling
for the award that currently holds their family name! Greg seems to be out-Burrs-ing
James right now, but I believe a last place tie is in the making. :) Just kidding, there's
still a lot of curling to go. Gimp Hemmings better start winning some games.... and I see
they play Ferby tonight. Go frog go.
Monday, March 3rd, noon... Draw 6 is complete... lots of movement. Schmidty is
temporarily on top followed closely by Chopper. The dualin'-Gerries aren't far behind.
You will notice one more name way down in 30th spot. This was a late entry by
Dean Hicke so it won't be allowed (precedence has been set, sorry Hicke). So, we'll
see where he would have ended up if he hadn't been such a slacker. Judging by
his picks, I think we have just saved him $10. By the way, his picks were on my
voicemail by noon on Saturday.

Sunday March 2nd, 9:30pm ... Draw 5 complete ... Whatthef..?Ms. Random is layin' an early
beatin' on everyone! Other than that it's fairly close at the top, and of course it's still early.
My horse, Dacey, is at a respectable 2 and 1, having lost only to Alberta. Now if Geek
Hemmings would win a few games I'd be a happy camper. I pity the foos who picked
Manitoba higher than a 4.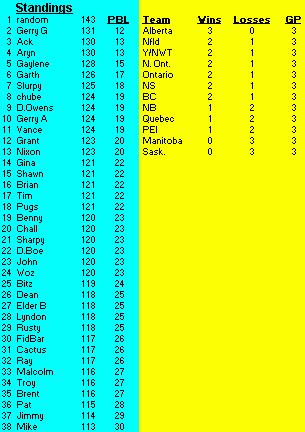 Friday Feb. 28th ... 5pm ... No more bets! All the picks are in! We have a record 37 entries!
That means the prize money will be a total of $370. If there is no tie for last place, the prize
money will be: 1st - $216, 2nd - $108, 3rd - $36, BB - $10.
If there is a tie for last place, then the prize money will be: 1st - $222, 2nd - $111, 3rd - $37.
We have 9 people who weren't in the Scott pool, although a few have been in previous years.
Thank-you to all who have entered, and let the games begin... Oh ya, Scotty, no heckling the
teams you picked low while you are in Halifax bitch. :)


Here's the excel97 spreadsheet.
(only update the wins and losses on Sheet 1. The other sheets will be updated automatically.)
And here's a list of who's who:
chube - Cory Hubick
D.Boe - the Hudson Bay Kid
Simms - Pat Simmons - beware ... probably the alltime top pool money winner, and is bitter from the Scott pool.
Cactus - the younger Burrows ... 2nd place in the 2002 Brier pool!!!
Elder S - The elder Siebert, Ray
Gaylene - soon to be Mrs. Cactus
Rusty - young Russell Siebert
Gerry Adam - is this where the Smilin' Gerry came from?
Brent Stroh - probably does the most research ... just look at his picks
Chall - Mr. Cory Hall
Elder C - The elder Cursons, Dean.
Slurpy - Steve Slupski - aka "chopper"
Brian McCusker - has assured me he has not (knowingly) slept with any Brier participants.
Mike McIntyre - not sure if I spelled that right
Shawn Koester - chube's skip
Tim Herrod - a past champion
Elder B - Greg ... the Elder Burrows - not a past champion
Vance Hachkewich - has been in the money
Grant Cooper - I think he has been in the money before
Benny Hebert ... Mr. Heebz
John "Not So" Aston-ishing ... that's John Aston for those of you who are confused.
Garth Neher - another Southey-ite
Nixon - The Mighty Nixon returns to action
Gerry Geurts - curls with Nixon
Schmidty - the new Bodnarchuk... thank-you.
Woz - Glen Wozniak - also curls w/ chube
Ack - Jason Ackerman
Bitzy - Scott.... and the reigning Scott Pool champ.
Lyndon Holm - curls w/DBoe.
Sharpy - Jeff Sharp - although I think he may be legally obligated to change it to SMI.
Troy Robinson - back from a brief stint in the pools last year.
Pugs - Ron Pugsley - new to the pool action.
FidBar - a couple of people who work with Woz.
Gina Fowlie - of Moose Jaw fame... new to the pool.
Derek Owens - curls w/ Johnny Astonishing
Malcolm Vanstone - no explanation for this young man.
Jimmy - Warren Action Jackson - making a return to pool action
-------------------------------------------------------------------------------------------------------------
Thurs. Feb. 27th ... well the picks are rolling in folks. The Brier starts on Saturday.
Please have your picks in NO LATER than Friday at 5PM. I am leaving to curl in Moose
Jaw that weekend so the deadline is 5pm friday. I would suggest doing it right now. We are
currently sitting at 25 entries, 5 of which were not in the Scott pool! So, it looks like it will
be a full field. Those of you who haven't paid or made arrangements to pay through
someone (ie. DBoe, Bitz, etc.) please do so ASAP. Thank-you very much.
Good luck to everyone,
chube


Feb. 19th, 11:30pm
Alright everybody, it's time to begin selecting your Brier picks. Please get your picks in as early as you can ( I'm looking at you, Bitz). The rules and payout will be the same as usual with one exception. I am introducing "The Burrows-Brothers Award" ... there will be a $10 prize for finishing dead last. You must finish alone in last place (if there is a tie for last then there will be no award). The $10 will come off of the total prize money before the 60/30/10% split for 1st/2nd/3rd is calculated. And of course, the random team is not included. If you have any questions or comments, please let me know.
**** I am willing to rename the BB Award. Please post any suggestions on the Message Board
and vote for any that you like . Thanks. *****
----------------------------------------------------------------
The teams:
BC - Ryan
AB - Ferby
SK - Harcourt
MB - Bubbs
NO - Henderson
ON - Cochrane
PQ - Hemmings
NB - Howard
NS - Dacey
NF - Gushue
PEI - Campbell
Y/NWT - Cowan

---

Rules:
1. Rank men's and womens teams separately.
2a. Give the team you feel will have the most wins a 12 and the least wins a 1.
2b. Your score is determined by multiplying the ranking by the number of wins and adding them up.
3. Entry fee is $10 for each event.
4. Payout for each will be: 1st - 60%, 2nd - 30%, 3rd 10%.
5. Results are based on round robin only... tiebreakers and playoffs are not included.
6. Entry fee must be in chubes hands before the start of the 1st draw.
7. You may email, fax, or phone me your picks.
8. I will pick my rankings and email them to someone else before looking at any of your picks.
9. I will post everyones rankings on this page after they are all received.
10. Keep this page bookmarked for updates and results.
11. Ties: If there is a tie for 1st or 2nd the prize money will be split equally. If there is a tie
for 3rd place only, the tie will be broken to determine who will get 3rd place alone. To break
the tie the head-to-head results of the top ranked teams for each person in the tie will be looked
at. For example, if person A ranked Sask as 12 and person B ranked Manitoba as 12, then
if Sask beat Man in the round robin person A would get 3rd place. If they both had the same
team ranked as 12, then you would look at who they ranked 11, then 10, etc.
If more than 2 people are tied for third, then the same scheme is used but you may have to
eliminate people one by one. For example, if person A and B picked Sask as 12, and person
C picked Man as 12, then if Sask beat Man in the round robin person C is eliminated and we
look at who A and B rated as 11. If Manitoba beat Sask in the round robin then person C would
get 3rd place.
I hope that made sense to you, it does to me. If you want more explanation please let me know.
12. No entry will be accepted after the start of the first draw.

PREVIOUS POOL RESULTS:
Scott 2003
Brier 2002
Scott 2002
Roar of the Rings
Brier 2001
Scott 2001