Chube's Page
---
HIT RELOAD OFTEN TO ENSURE THE LATEST UPDATES

---
Message Board
---
Scott 2003 POOL
Feb 24th, 12:15am ... I'm back! Fernie was great ... -8 to +1 degrees, knee-deep powder,
relatively injury-free but please don't ask me to lift anything heavier than a book or move
faster than a brisk walk for the next few days. Driving home, the outside temp guage on my
truck fell faster than I did through the standings. -39 Celcius near Regina! Nice welcome home.
Anyhow ... Bitz wins!!! Bitz wins!!! I'm not sure how that happened but as far as I can tell
the spreadsheet seems to be functioning properly. I'm sure the $168 first prize will cover almost
a full day alcohol consumption at the Brier next week. Maybe not, but it'll come in handy.
Second prize and $84 goes to Mr. McCusker, while the $28 third prize goes to Mr. D. Boe.
Congrats to all 3 on a job well done! Also congrats to Team Sask. for making the playoffs!
Well done ladies!
Thank-you to everyone for participating! Hope you had fun. Don't forget to get your picks in
for the Brier Pool. You are all cordially invited to participate. Also, please get your entry fees to me ASAP if you haven't done so already.
chube
FINAL STANDINGS: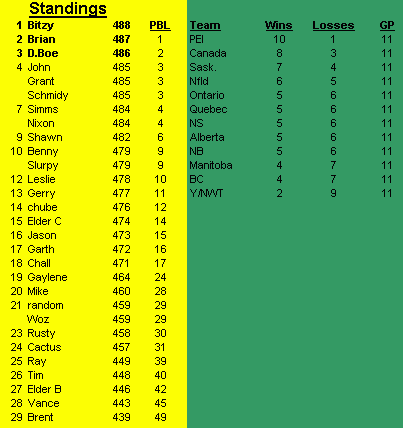 Feb. 19th, 11:30pm ... draw 14 complete. Well, I am officially eliminated... thank-you Santos.
Mr. Aston is back on top, with several people within striking distance. It is going to be an
interesting day tomorrow! Too bad I won't be here to watch it or keep you up to date. I am
off to Fernie for a weekend of snowboarding and crown royal. So, in my absence Mr. Russell
Siebert will keep you up to date via the message board. Look for posts by Rusty. If I make it
back with all my limbs and liver intact, I will post the official results on Sunday night or Monday
morning.
Also, you should have received an email about the Brier pool by now. If I missed you, I am sorry.
Go here for all the Brier info. Please get your picks in ASAP. My picks are already in the
trusty hands of D.Boe and the Elder Burrows. Feel free to invite others if you so please.
Good luck everyone ... see ya next week.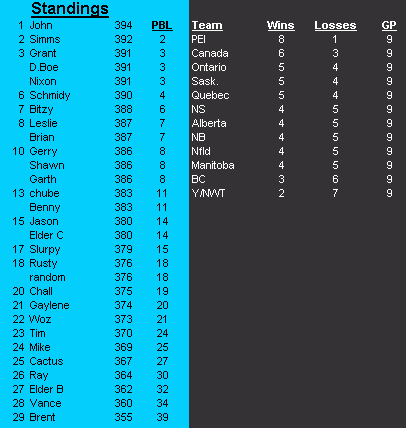 Feb. 19th, 4:30pm .... draw 13 is complete. Well, Pat $immon$ is back at
the top. I don't know how I managed to lose ground, but tonights draw will
sure be an interesting one. I expect some big movement. Random is mowing
down you guys like weeds.


Feb. 19th ... 11am .... draw 12 complete. Finally Alberta wins a game. Things are getting tight
at the top of the pack. Slurpy! What happened?!! You were passed by mrs. random! Anyone
remember this picture... this was when Rusty developped his crush on Colleen Jones.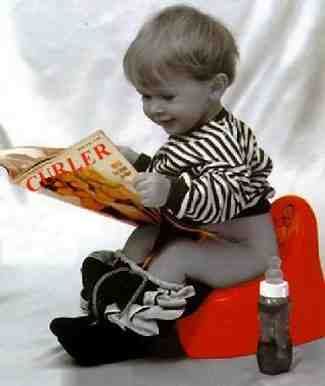 Feb 19th, 3am ... draw 11 complete... the Unabomber squadron won yet another spectacular
game of curling tonight. A few whickies were consumed. I thought that Alberta won tonight
... that would've been great ... Pat? isn't that what TSN said? The web says they lost. Damnittt.
Anyway... Team Aston-ishing holds on to a 3 pt lead. Rusty, I think I am coming down with a
cold ... I may have to sleep this cold off in the morning ... if I do not show up for work please tell
Victoria et al that I am under the weather but expect to brave the elements around noon or so.
*cough* *cough* Goodnight.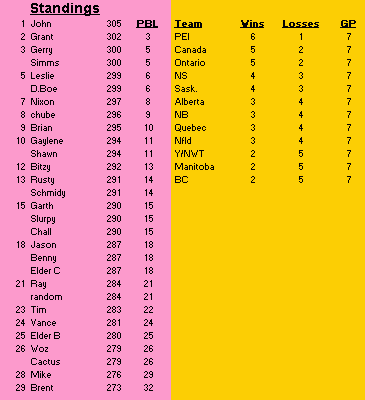 Feb. 18th, 4:30pm, Draw 10 complete. Looks like Betker lost a close
one to PEI. Johny Aston-ishing is back on top, while Gaylene seems to
be fading. On the other hand, James has turned on the thrusters and has
a solid hold on 28th spot! There could be some serious movement tonight
though.


Feb. 18th, 11:30am ... Draw 9 is complete. Gaudet keeps on rolling, and
Johnny temporarily regains the lead.

Feb 18th, 1am ... just got finished 6 hours of work on my snowmobile. Not too
fucking chipper right now. I see Simms and Noxin are making a run for the top.
The Burrs brothers are settling in to their usual spot. Bitzy is making a run for
his usual spot ... 4th. The RANDOM picks are in 18th spot. Wow.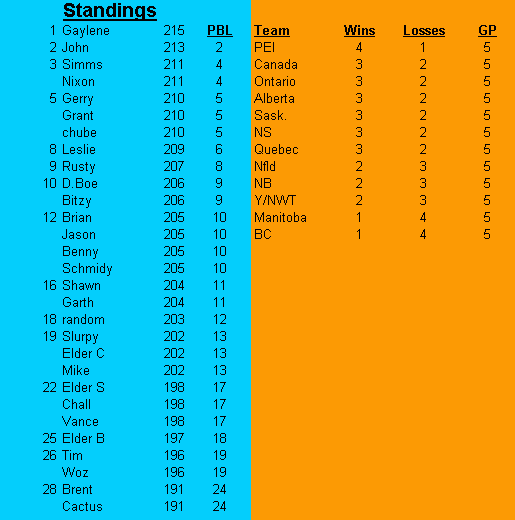 Feb. 17th, 4pm ... Draw 7 complete... Gaylene has fallen off the pace due
to a BC victory. Johnny Aston-ishing has moved to the top of the heap but
has a lot of people within striking distance.

Feb. 16th, 10pm ... Draw 5 is in the books and there are 8 teams tied at 2 and 1
at the Scott! It appears that Gaylene, with a staggering 11 point lead, is showing
the boys how it's done! Young James on the other hand, is occupying the basement,
a mere 3 points back of the random picks. It's still early though folks... lots of time yet.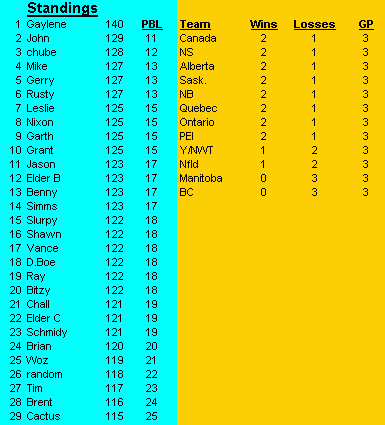 Feb. 15th, 11:45am ... Well I see Bitzy's picks arrived around 9:30 this morning
and I have to ask, "Why so soon? The draw doesn't start for another 2 1/2 hours!"
Anyway, there are 28 people entered ... tied for largest field ever, I think. I always get
nervous that there will be a bunch of ties, but that hasn't been a problem in the
past. So, by my calculations, the payout will be: $168 for 1st, $84 for 2nd,
and $28 for 3rd.


Please check over your picks and let me know if there is a mistake.
Here's the Excel spreadsheet if you want to keep track yourself. Just
update the wins and losses on Sheet 1 and the rest will automatically
update.
Who's who:
chube - that's me... Cory Hubick is my real name.
D.Boe - the Hudson Bay Kid
Simms - Pat Simmons - beware ... probably the alltime top pool money winner.
Cactus - the younger Burrows
Elder S - The elder Siebert, Ray
Gaylene - soon to be Mrs. Cactus
Rusty - young Russell Siebert
Leslie Adam
Brent Stroh
Chall - Mr. Hall
Elder C - The elder Cursons, Dean.
Slurpy - Steve - curls w/chube
Brian McCusker - has admitted to sleeping with 25% of team Sask.
Mike McIntyre - not sure if I spelled that right
Shawn Koester - chube's skip
Tim Herrod - a past champion
Elder B - Greg ... the Elder Burrows - not a past champion
Vance Hachkewich - has been in the money
Grant Cooper - I think he has been in the money before
Benny Hebert
John "Not So" Aston-ishing
Garth Neher - another Southey-ite
Nixon - The Mighty Nixon returns to action
Gerry Geurts - curls with Nixon
Schmidty - will buy everyone a drink
Woz - Glen Wozniak - also curls w/ chube
Jason Ackerman
Bitzy - send your Brier picks NOW, Scott.

Feb 5th, 2003 ... Well the picks are rolling in. My picks are in the trusty hands
of mr. D. Boe. I think I have fixed most of the broken links on this webpage. I think
this message board will work, but let me know if you have any problems.
Feb 4th, 2003 ... well the Scott starts in less than 2 weeks.... Feb. 15th to be exact.
They still don't have an official list of teams up on the official website but I think I have
found all the reps. The rules are the same as last year and are found below. Again,
please get your money in ASAP and good luck to everyone. The place that was hosting
the messageboard last year is no longer free ... but I'm looking for a replacement.
Try this messageboard.
The teams are:
Canada - Colleen Jones
BC - Toni Fister
Alberta - Deb Santos
Sask. - Jan Betker
Man. - Barb Spencer
Ont. - Anne Dunn
Quebec - Nathalie Gagnon
NB - Heidi Hanlon
NS - Nancy McConnery
Nfld - Cathy Cunningham
PEI - Suzanne Gaudet
Y/NWT - Dawn Moses

---

Rules:
1. Rank men's and womens teams separately.
2a. Give the team you feel will have the most wins a 12 and the least wins a 1.
2b. Your score is determined by multiplying the ranking by the number of wins and adding them up.
3. Entry fee is $10 for each event.
4. Payout for each will be: 1st - 60%, 2nd - 30%, 3rd 10%.
5. Results are based on round robin only... tiebreakers and playoffs are not included.
6. Entry fee must be in chubes hands before the start of the 1st draw.
7. You may email, fax, or phone me your picks.
8. I will pick my rankings and email them to someone else before looking at any of your picks.
9. I will post everyones rankings on this page after they are all received.
10. Keep this page bookmarked for updates and results.
11. Ties: If there is a tie for 1st or 2nd the prize money will be split equally. If there is a tie
for 3rd place only, the tie will be broken to determine who will get 3rd place alone. To break
the tie the head-to-head results of the top ranked teams for each person in the tie will be looked
at. For example, if person A ranked Sask as 12 and person B ranked Manitoba as 12, then
if Sask beat Man in the round robin person A would get 3rd place. If they both had the same
team ranked as 12, then you would look at who they ranked 11, then 10, etc.
If more than 2 people are tied for third, then the same scheme is used but you may have to
eliminate people one by one. For example, if person A and B picked Sask as 12, and person
C picked Man as 12, then if Sask beat Man in the round robin person C is eliminated and we
look at who A and B rated as 11. If Manitoba beat Sask in the round robin then person C would
get 3rd place.
I hope that made sense to you, it does to me. If you want more explanation please let me know.
12. No entry will be accepted after the start of the first draw.

PREVIOUS POOL RESULTS:
Brier 2002
Scott 2002
Roar of the Rings
Brier 2001
Scott 2001