Chube's Page
---
HIT RELOAD OFTEN TO ENSURE THE LATEST UPDATES

---
Message Board
---
Scott Tournament of Hearts - 2004
The final standings ... I updated the points to reflect the bonus playoff points.
Only Aryn and Ray picked Canada to win so they got 6 points each. Nobody
picked Quebec but Russ and Mike picked Ontario and rocketed up the
standings with an extra point each. Rusty earned his way into a tie with
Greg for 23rd overall. Congrats.
Please get your Brier picks in ASAP. Winners: I'll send the cheques out after
the Brier.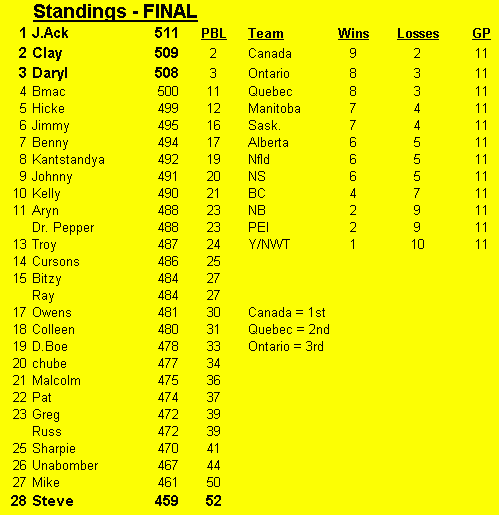 Thursday Feb. 26th ... 11:59m ... the round robin is complete, the chickens
have hatched, and they are all there just as B. Diddy counted them a day
or two ago. Since Jason and Clay both picked Sask as their first overall pick
they will finish in the same order. Daryl picked Alberta 1st so he won't get
any more points either. So, it's all over folks! Big Daddy Ackerman wins and
picks up $162 for his efforts! Clay and Daryl will end up in 2nd and 3rd respectively
and get $81 and $27 for their showings. ALSO, Slurpy managed to overpower
Mike for last place overall and since he picked Alberta as his top team he will
not earn any more points. Therefore, he is the recipient of the 2004 Burrows
Brothers Award for the Scott and a $10 prize! Congratulations Chopper!
Thanks everyone! Please get your entry fees to me ASAP if you haven't done
so already. Also, get your picks in for the Brier pool ASAP... NOTE the deadline
is next Thursday at 1pm as I am flying out at 6 or 7 that night.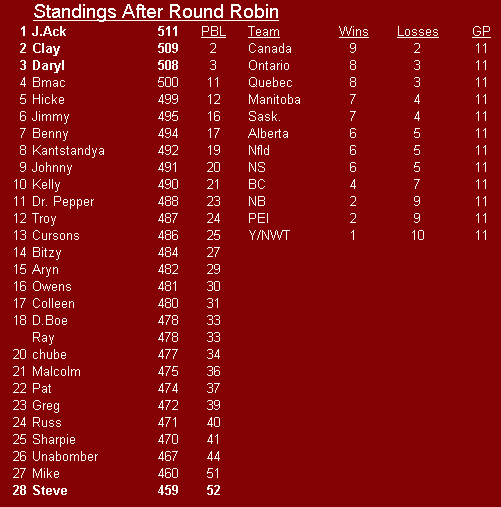 Thursday Feb. 26th ... 6pm ... Draw 16 complete...
Thursday Feb. 26th ... Draw 15 complete... no comment.
Weds Feb. 25th ... 11:50pm ... Draw 14 is in the books. Well, B. Diddy
has held onto the lead going into the final day of the round robin. Don't
forget about the bonus points for your top team making it to the final 3.
This could determine the winner.
I'll send out the Brier choices soon. If anyone doesn't get the email just
send me your picks anyway. Also, I'd like some feedback on whether or
not you like the idea of getting points for how your top team does in the
playoffs and whether or not 6,3,1 point is too much or too little. Thanks.
Oh ya, if anyone is having trouble registering on the message board, just
email me and I'll set you up.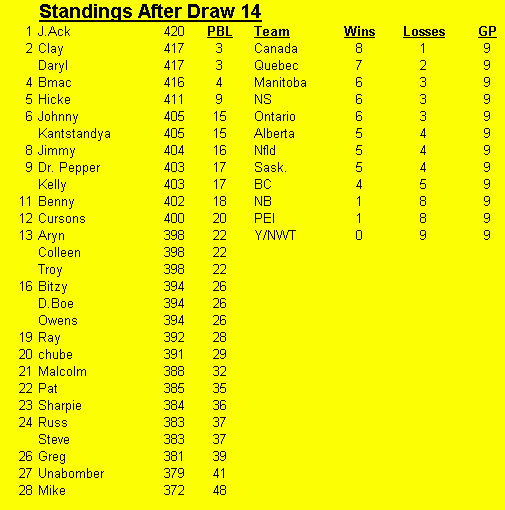 Weds Feb. 25th ... 6pm Draw 13 complete and we HAVE A NEW
LEADER FOLKS! B. Diddy Ackerman has overpowered Brian for
the lead. Lets see if he can hold onto the lead at the end of the day.
Weds Feb. 25th ... 4pm Draw 12 complete and 13 in progress.
B. Diddy is making a charge for the top.
Tuesday Feb. 24th, 11:50pm ... draw 11 complete ... with 2 more
Manitoba wins, Hicke is moving back toward the top. Check below
for who's who...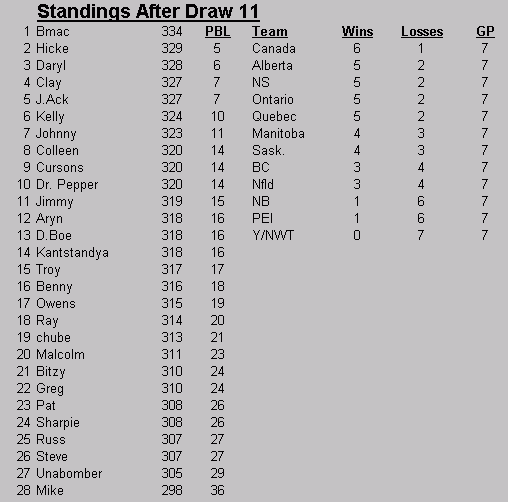 In no particular order, sorry if I miss anyone:
chube - that's me, Cory Hubick
D.Boe - Derek Boe.... the Hudson Bay Kid
Pat Simmons - used to be good at these pools.
Ray ... the Elder Siebert brother
Russ - young Russell Siebert
Elder C - The elder Cursons, Dean.
Steve ... Slurpy - Steve Slupski - aka "chopper"
BMac - Brian McCusker - I may have to issue him a T4 for his annual pool earnings.
Mike McIntyre - currently only 7 points out of 27th place!
Unabomber - Shawn Koester - don't talk to him in an airport.
Greg ... the Elder Burrows - not a past champion ... and not likely a
future one either
Benny Hebert ... Mr. Heebz
Johnny Aston - WHOOOOPA, WHOOOOOOPA!
Aryn Schmidt - dentite.
J.Ack - Jason Ackerman ... likes to gamble and force me to go to the casino
Colleen - Mr. Ack's better half.
Bitzy - Scott Bitz - should really take more time in making his selections.
Sharpie - Jeff Sharp - the sharp dressed man.
Troy Robinson - still waiting for his breakthrough pool
Derek Owens - also waiting.
Malcolm Vanstone - has more golf bags than anyone I know.
Jimmy - Warren Action Jackson
Kelly Moskowy - new too the pool and discovering how tough it is.
Kantstandya - Kent Bittner
Hicke, Dean - whipped.
Daryl - Works with Greg. Welcome to the pool.
Clay - ditto.

Feb. 24th, 5:30pm ... draw 10 complete ... Lots of action at the top
of the pack. Some interesting games tonight that could really affect
the standings. I see that the elder Burrows brother is settling in
nicely at 23rd place ... well done Greg, be proud and strong in your
tradition! I see that your co-workers are pummelling you in the
standings too. I hope you didn't make that side bet.
I also just realized I haven't put up a list of who's who. I'll do that
later tonight if I have time. Also, I'll add Lady Random to the standings
if I have time.
Tues. Feb 24th ... draw 9 is now in the books... and Brian is extending
his lead. I don't get it.

Feb 23rd ... Draw 8, Draw 9 whatever ... after Tuesday it seems that
Brian is at his usual spot on top of the standings, followed closely by
Mr. Hicke and Mr. Moskowy. I've said it before and I'll say it again,...
it's still early folks.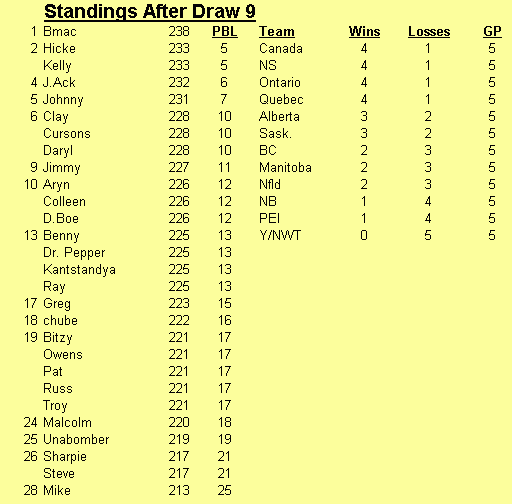 Feb. 22 ... 10:30pm ... draw 4 complete ... still early folks...
Feb 21st, 1:50pm ... the picks are in. A few notables are missing but I can't
wait forever... Cactus, the younger Burrows brother won't be in the hunt for
the award that bears his family name. I also had responses from Nixon and
Grant Cooper but didn't get their picks. Oh well, the Brier is just around the
corner.
So it appears that we have 28 entries ... a nice size field. So the payout will
be as follows:
- If there is a sole last place finisher - 1st = $162, 2nd = $81, 3rd = $27,
BB award = $10.
- If there is a tie at last place and no BB award - 1st = $168, 2nd = $84,
3rd = $28.
Here is the Excel97 spreadsheet that I use to keep track. As usual, only change
the wins and losses on the 1st sheet ... all others are updated automatically.
Please let me know if you find any mistakes.
Good luck to everyone,
chube


-----------------------------------------------------------------------------------------------------
Well it's that time of the year again! The rules are the same as last year with
one new addition to incorporate playoffs into the overall picture.
Get your picks in early please... I would like them in by 2pm, Friday Feb 20th.
Rules and teams are below.

The Teams:
Canada - Colleen Jones
BC - Wheatcroft
Alberta - Kleibrink
Sask. - Anderson
Man. - Fowler
Ont. - Middaugh
Quebec - Larouche
NB - Hanlon
NS - Smith-Dacey
Nfld - Cunningham
PEI - Gaudet
Y/NWT - Stabel

---

Rules:
1. Rank men's and womens teams separately (if applicable).
2a. Give the team you feel will have the most wins a 12 and the least wins a 1.
2b. Your score is determined by multiplying the ranking by the number of wins during the round
robin, and adding them up... PLUS 6 points if your top-ranked team wins the final, 3 points
if your top-ranked team loses the final, or 1 point if your top ranked team places 3rd in the playoffs.
The playoff points are for your top-ranked team ONLY. No points for your 2nd, 3rd, or lower ranked
teams making the playoffs.
3. Entry fee is $10.
4. Payout for each will be: 1st - 60%, 2nd - 30%, 3rd - 10%. $10 will go to a person who
gets last place alone. The $10 will be taken off the total prize money before the above percentages
are calculated. In the case of 40 or more entries, the prize money will be 1st - 50%, 2nd - 25%,
3rd 15%, 4th - 10%.
5. Results are based on round robin and playoffs only... tiebreakers are not included.
6. Entry fee must be in my hands (or one of my associates) before the start of the 1st draw.
7. You may email, fax, phone, drop-off, or use whatever method you wish to get your picks to me
but they will not be accepted after the start of the first draw.
8. I will pick my rankings and email them to someone else before looking at any of your picks.
9. I will post everyones rankings on this page after they are all received.
10. Keep this page bookmarked for updates and results.
11. Ties: If there is a tie for 1st or 2nd the prize money will be split equally. If there is a tie
for 3rd place only, the tie will be broken to determine who will get 3rd place alone. To break
the tie the top ranked teams for each person in the tie will be looked at. First of all, person
with the top-ranked team that does better in the playoffs will be awarded 3rd place. After
that the head to head round robin records will be taken into account.
For example, if person A ranked Sask as 12 and person B ranked Manitoba as 12, then
if Sask beat Man in the round robin person A would get 3rd place. If they both had the same
team ranked as 12, then you would look at who they ranked 11, then 10, etc.
If more than 2 people are tied for third, then the same scheme is used but you may have to
eliminate people one by one. For example, if person A and B picked Sask as 12, and person
C picked Man as 12, then if Sask beat Man in the round robin person C is eliminated and we
look at who A and B rated as 11. If Manitoba beat Sask in the round robin then person C would
get 3rd place.
I hope that made sense to you, it does to me. If you want more explanation please let me know.
12. No entry will be accepted after the start of the first draw.

PREVIOUS POOL RESULTS:
Worlds 2003
Brier 2003
Scott 2003
Brier 2002
Scott 2002
Roar of the Rings
Brier 2001
Scott 2001